By Kevin on February 2, 2019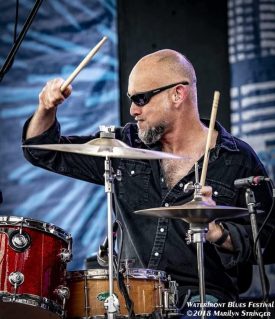 Our drummer, Jimi Bott, has been nominated for the 20th time for a Blues Music Award for Instrumentalist -Drums! Jimi won the award back in 2015, and has been the most nominated drummer in the awards 40 year history. The award ceremony will be held May 9 2019 at the Cook Convention Center, Memphis, TN
For those of you who don't know, The Blues Music Awards (once called the Handy's) are universally recognized as the highest accolade afforded musicians and songwriters in Blues music. Voting is open to all members of the Blues Foundation, and if you are not already a member, please consider joining The Blues Foundation by going to www.blues.org. Membership is only $25 a year, and it goes a long ways towards helping keep the blues alive.
MORE >>
Posted in News

By Kevin on November 23, 2018

Hi everybody! As many of you have heard, our beloved Highway 99 Blues Club will be closing it's doors on December 31. This will be the last time we have the opportunity to perform there. We have had so many memorable evenings at the club, from CD release parties to NYE shows, to epic nights with the "Big Band". Please be sure to make plans to attend this special show on Saturday, December 22.
The band will feature 2015 Blues Music Award Winning drummer Jimi Bott (Fabulous Thunderbirds, Mannish Boys, Rod Piazza), Chris Mercer – tenor sax (John Mayall, Freddie King, The Pretenders), Jonathan Chase – bass (Kevin Selfe), Joe McCarthy – trumpet (DK Stewart, Duffy Bishop), Brad Ulrich – baritone sax (Duffy Bishop), Steve Kerin – keys (Too Loose Cajun Band, Atomic Gumbo), and Kevin Selfe – guitar and vocals.
MORE >>
Posted in News
By Kevin on September 16, 2017
Hi everybody!  I am writing to you from the Appalachian Trail to let you know that I will be back in Oregon in the beginning of November. I have lots of exciting shows planned already and am so looking forward to playing for you all again.  Hiking the trail has been an amazing experience and at this moment I have hiked 1765 miles. Only 425 left to go on my "Long Walk Home"! Thanks everyone for all your support and looking forward to seeing you soon!
MORE >>
Posted in News
By Kevin on November 12, 2016
So my friends, I have some news to share with you. I will be leaving Oregon in February and heading back to Virginia. I will be spending some time with my mom and my family and try and help with some things around the house that need attention in the years since my dad passed away. After that, and depending on the timing, I am hoping to thru-hike the Appalachian Trail.
The past 10 years in Portland have been some of the greatest of my life. All the people I have meet and become friends with, all the shows I've played, all the things I've experienced…it has been nothing short of an amazing miracle and I am so grateful. I do hope and plan to come back to Oregon at some point. I will be playing all the shows that I have booked on my calendar through the end of February. Please come out and say hi as I'd love to see you all before I leave. After that my band will continue to host the jam at the Blue Diamond until I come back and will have a special guest each week. Please support them and help keep the jam the special gathering of friends and musicians it has become.
Thank you all so much for the love and support you have shown me over the years. I am truly a blessed man.
MORE >>
Posted in News

By Kevin on November 12, 2016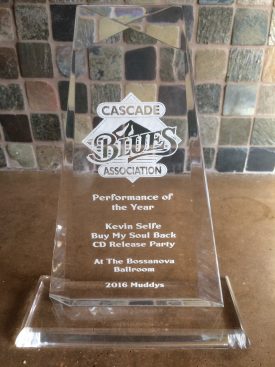 On November 2, the Cascade Blues Association in Portland, OR held their annual Muddy Award ceremony.  We are honored to announce that we received the 2016 Muddy Award for Performance of the Year for our "Buy My Soul Back" CD Release Party at the Bossanova Ballrom.  Thank you to the CBA, and the members for recognizing and supporting us, and thanks to all who helped make that night such a memorable experience!
MORE >>
Posted in News

By Kevin on October 4, 2016

Thank you Cascade Blues Association members for the Muddy Award nominations for myself, the Tornadoes and the Big Band! In all we were nominated for Contemporary Blues Act, Traditional Blues Act, Electric Guitar, Bass (Allen Markel), Drums (Don Shultz), Horns (Joe McCarthy, Brad Lee Ulrich, Chris Mercer), Keys (Steve Kerin), NW Recording of the Year (Buy My Soul Back), Performance of the Year (CD Release Party at the Bossanova Ballroom), and Lifetime Achievement Award (Jimi Bott). We are so very honored to be thought of among the immense talent here in Portland and the Pacific NW, and are grateful for all the support of our friends and fans who come out to see us play and buy our music.  You can vote by being a member of the Cascade Blues Association, and the awards ceremony will be held on Wednesday, November 2 at 6:30PM at the Melody, Ballroom. Congrats to all the nominees, and thanks again!
MORE >>