By Ralph Berrier Jr. | 981-3338 | The Roanoke Times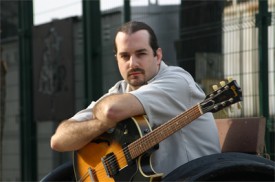 Anyone who said there's no good live music in Roanoke, or any band that ever said there's no place to play, take a listen to Kevin Selfe.
"I played the blues here for 10 years straight, 150 shows a year," said Selfe, an electric blues guitarist who called Roanoke home for much of his life.
Those were just the shows in Roanoke. They don't include the out-of-town tours he played as a member of the Fat Daddy Band, Little Rodger and the Cheap Thrills or as a solo guitarist. Three shows a week, 52 weeks a year.
As hard as it may be for some local musicians to believe, you can almost play too much in Roanoke. So, Selfe has relocated to Richmond, where he's trying to pump some life into the capital city's sleepy blues scene.
"I needed a change of scenery," said Selfe, 32, who will bring his band the Tornadoes to the SunTrust Blues and Jazz Festival on Saturday. "Richmond is comparable to Roanoke in a lot of ways. It's much larger, but as far as the blues are concerned, there's not a lot of venues."
Selfe has won several major guitar awards in the past 10 years. He played with some of the hardest-working bands in the valley, and he still gets to Roanoke for the occasional gig. He last played in the Magic City at the end of July at Martin's Downtown Grill. He will play host to the late-night blues jam at Martin's following the festival.
He said he doesn't plan to stay in Richmond long. His goal is to move to Portland, Ore., and get a taste of the West Coast blues.
"As I get older, I think, 'What's the next step?' " he said. "I want to go somewhere else and tread new ground. I want to get out of my comfort zone."