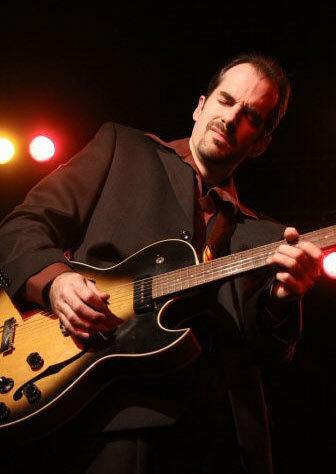 By Greg Johnson
It's Saturday night in Beaverton. Kevin Selfe & The Tornadoes are setting up the stage for the night at Monty's and so far it looks like it is going to be a fairly light crowd. After all, it is opening weekend for the Rose Festival; many folks are downtown to watch the Starlight Parade. The first set comes and goes. Hardly anybody approaches the dance floor, but the music is absolutely sizzling. The band doesn't seem overly concerned with the number of people, though obviously they would like to see more to give that tip jar an extra boost.
But something magical happens before the second set kicks off. Like a flame that has drawn a moth to its light, a series of Blues artists all of sudden begin to show up. As if on cue, in walks Lisa Mann, A.C. Porter and Josh Fulero. Followed shortly afterward by Linda Myers and Harvey Wicklund. What seemed to be a fairly uneventful evening turns into a full-blown jam with some of the most ferocious Blues chops to be heard anywhere. Not just sure how it happened, perhaps the parade had finished, but the room was suddenly packed, too, filling the dance floor with pulsating bodies.
But when you have a musician like Kevin Selfe on hand, you shouldn't expect anything different. In less than a year living in the Portland area he became one of the premier Blues players in the city. And his popularity continues to grow with both fans and other musicians.
Yet with Portland's reputation for being a Blues city, why are there so many musicians out and about, not working on a Saturday night? About a week earlier, I sat with Kevin quaffing microbrewed beers on the picnic tables outside of Roots Brewing. I posed the question to the meteorologist: "What is the forecast for the Blues scene in Portland?"
"Well, since this is Portland," he answered, "partly cloudy with a chance of rain. That is exactly what the scene is like. I can't tell you that it's great. The pay is not as good as it is on the East Coast. But there is more competition for the same gigs. As far as the level of musicians, it is great! And the more recognition that one band gets in the area, somebody like The Insomniacs for example, the more we all do. And of course you have people like Fiona Boyes and Curtis Salgado. The more people that are getting bigger from here, the better it is for all of us."
Whoa, whoa, whoa, wait a minute! Did I just state that I asked this question to a meteorologist? Actually, I did. Kevin Selfe graduated from North Carolina State University with a degree in meteorology. Why meteorology? Weather has always fascinated him. It all started when he was nine years old and heard the weatherman on TV claim that there would be a foot of snow overnight. It gave him the hope that there would be no school the following day. But his wishes were all dashed when he got up the next morning finding not even a trace of the wet white stuff. What happened? How does the atmosphere work? It was a question that hounded him through the ensuing years and led him to his studies. Exciting? Maybe not for most people. But what other group of students are going to be crazy enough to chance chasing tornadoes?
Hearing Kevin Selfe perform today, it is surprising that music did not play much of a role in his early life. Growing up for the most part on a farm in Roanoke, Virginia, the only music he can recall his parents having in the house was 1970s Pop, such as Simon & Garfunkel, Billy Joel and the soundtrack to "Grease." He didn't even own a player himself until he was 16, and then because his first car had a cassette deck. His first musical purchase was a tape of AC/DC's "Back In Black." It was the feisty playing of AC/DC's Angus Young that brought him interest in the guitar.
Kevin started listening to a lot of AC/DC's material. There was one song in particular that caught his attention. A number called "Baby, Please Don't Go." Looking at the liner notes he saw the name Big Joe Williams. That wasn't the name of anybody in the group, so he must've written the song. And like generations before him seeing names like McKinley Morganfield or Chester Burnette on songs performed by groups like The Rolling Stones or The Animals, Kevin was drawn to explore further who this Big Joe Williams was. And he discovered his story, learning about Williams' self-stylized 9-string guitar and Kevin found himself exposed to the Blues.
At 17, he convinced his father to purchase him an electric guitar of his own. A $150 guitar and amp with which he began to take lessons at a local music store. They didn't last long, however, as he struggled with it after learning a few chords. It wasn't until he reached college that playing the guitar became more concentrated. And that was probably more out of necessity than desire at the time.
Why? Well, studying meteorology isn't exactly a field that attracts a lot of the opposite sex as students or admirers. Out of the 35-40 students in his class, only about 3 or 4 were female. After being class president and the captain of the football team in high school, Kevin states that the four years he spent in college was pretty lonely when it came to dating. But his roommate owned a wide variety of music and they played it constantly. They could be listening to Nine Inch Nails or Nirvana one moment, then completely change over to Elmore James and Howlin' Wolf the next. His roommate also played bass and the two of them spent many hours wood-shedding in their dorm room..
When they turned 21, they started exploring some of the nightclubs in Raleigh. There wasn't really much going on with live music, but they did have a decent Blues scene at the time. The first Blues band he was saw was local favorites The Ministers of Sinister. They were incredible! And he also saw North Carolina keyboardist and vocalist, Skeeter Brandon. Seeing the Blues being played, Kevin knew right then, "Yeah, I want to do this!"
All those hours playing in their college room, and then returning home to Roanoke where he sat with guitar in the basement endlessly, began to pay off as Kevin found himself coming into his own as a musician. At 22, he was working in a steel mill and coaching high school football. A couple of the kids he coached had a little garage band and somehow ended up with a gig at a bar. They were in over their heads and asked Kevin for some help knowing he could play guitar. He agreed and they worked out a couple sets worth of tunes. The gig went over really well and led to a couple more. Called Veritgo, they entered a battle of the bands and ended up winning. Part of their prize was recording time, and they used it to record two original tracks plus a take on Jimi Hendrix' "Red House."
Somehow these recordings were heard by a local group called Fat Daddy. They were impressed with Kevin's playing and asked him to audition for the band. They had about 25 people try out, including guitarist Billy Crawford who had been filling in for them for a few months. It came down to Crawford and Kevin, with Crawford winning out. But just four or five months down the road they called back. Crawford was going on the road with Deborah Coleman and they wanted Kevin to join the band.
Fat Daddy is a hard-working band. Kevin had played all of maybe three or four gigs on-stage his entire life before he joined and now he was with a group doing 10 to 12 shows a month. And the fourth time he played with them was opening for The Fabulous Thunderbirds in front of 10,000 people at Victory Stadium. After the gig, Fat Daddy ended up at a club in downtown Roanoke, some friends came in and announced that The Thunderbirds were across the street and wanted to jam with them. Somehow convincing the band scheduled in the club to vacate, Kevin found himself playing with Kid Ramos and Jimi Bott. Other acts that the band would open for over the next few years would include The Nighthawks and Susan Tedeschi. Working so much, Kevin quit the job at a music store he was holding to become a musician full-time.
In 2001, Fat Daddy decided to enter a couple competitions for a chance to participate in The Blues Foundation's International Blues Challenge. They first tried with the James River Blues Society out of Sedalia, Virginia, but did not have much luck. Then they tried the Charlotte Blues Society and actually won the right to go to Memphis, beating out 16 other bands.
That trip in February 2002 was Kevin's first time on Beale Street and he was in awe, spending the first couple days just wandering around. The band competed in one of Beale Street's best Blues clubs, the Rum Boogie and out of 64 or so bands in the field, Fat Daddy emerged as one of the six finalists. Nobody from the Charlotte Blues Society had come to Memphis to witness the competition, not knowing what to expect. So Fat Daddy paved the way for their next year's act, Delta Moon, who won the whole shebang with the society sending a busload of people to cheer them on. But 2002 was not the year for Fat Daddy to win. The finals were taken by Chef Chris & His Nairobi Trio, with second place going to Tyree Neal.
Yet, it was not only the International Blues Challenge that has retained its memory from that trip for Kevin. Fat Daddy had checked into the Howard Johnson Hotel for their stay. That first day stepping into their room, Kevin and his roommate found it freezing inside. Somebody had left the air conditioning on they thought, so they cranked up the heat and went out to have dinner. When they returned, the room was still ice cold. Maybe somebody left a window open. When they checked for an open window, they didn't find one. Not an open window that is. There was simply no window in the sill at all. And they were on the 9th floor! Their bandmates were also having an interesting time in their room, discovering the ceiling directly above the toilet in the bathroom was leaking. They all had to have new rooms assigned. But if that was bad, it was nothing to what Jimmy Thackery went through in the same hotel. His toilet actually erupted causing him to leave his band in their rooms at the hotel, while he went somewhere else completely. Kevin says the lesson he learned from this experience was to stay away from Howard Johnson Hotels, especially in Memphis.
Returning to Virginia afterwards, the band suddenly found themselves in demand throughout the East Coast and South. They began traveling everywhere from Connecticut down to Texas. And Kevin was starting to build quite the name for himself as an outstanding guitarist.
For the last few years while playing with Fat Daddy, Kevin also started working with harmonica player Rodger Crowder in a band they named Little Rodger & The Cheap Thrills around 2000. He eventually decided to leave Fat Daddy and work with Crowder full-time in 2003. The band started picking up a lot of the same gigs that Fat Daddy had received, perhaps due to Kevin's part in the band. Rodger pushed Kevin to try the band's hand at entering the Blues Challenge, too, but Kevin said he had his fill of the event already and they never tried to compete while he was with them. (The band did make it to the IBC in 2008, reaching the finals out of well over 100 bands in the contest.)
But like he had while with Fat Daddy, Kevin spent his off nights from Little Rodger with yet another band. This one he named Kevin Selfe & The Tornadoes. They released one album, titled "Selfe Contained," which displayed Kevin's skills as a guitarist and an exceptional songwriter. He left Little Rodger permanently in 2005, and though he had the other band, he knew that he wanted to relocate someplace else. Truthfully, he just did not feel that there were enough really good Blues acts in Roanoke to challenge him.
He began studying about Blues communities in other cities. And doing so, he discovered Portland, Oregon. He was amazed at the quality of performers he saw living here, from Jimi Bott to Paul deLay to Curtis Salgado. He joined the Cascade Blues Association from Virginia so he would be able to receive the BluesNotes newspaper and read about all that was happening in Portland. And he decided he had to come out to see it for himself first-hand.
Kevin flew out to Portland in October 2005 for the first time. Within just a few hours of landing, he found himself at The Stein Haus on a Thursday night, where Jim Wallace, John Byers and A.C. Porter were raising the roof with some killer Blues. Kevin approached the guys and told them he was a guitarist from Virginia and asked if he could sit in. They were pretty cool about it and let him play along with them. Then for the next few days they took Kevin to clubs all around Portland. He had found what he thought one of the best Blues scenes he'd ever experienced.
It's funny, when Kevin returned to Roanoke with the thought of moving from there already deep within his mind, he decided to move to Richmond instead of Portland. And the year he spent there was one of the most dismal of his life. There was absolutely no Blues scene to be had in the city. Or anywhere else nearby for that matter. He often found himself driving three hours away to hear live Blues on weekends, usually to Hillsborough, North Carolina. And there was absolutely no Blues jams to be found anywhere in the city. Kevin had run a jam in Roanoke for four years, so he decided to start one in Richmond at a pub called Poe's. It became a fairly successful little jam, but the talent depth in Richmond was even less than he had in Roanoke, so after a year he decided to move again. This time with his sights firmly on Portland.
But one last thing occurred before he could make his move. For several years, Kevin had been working as a talent scout for a Blues festival in Roanoke. Through that association, Kevin would often be called upon to help find musicians to fill in for touring acts. Carey Bell was scheduled to play at a place called The Ellington in Lynchburg with his son Lurrie and Scott Cable on guitars. For some reason Lurrie was unable to make the show, so Kevin was asked to find a replacement. Eventually Cable also could not make the gig, so Kevin took on the guitar duties and also included Jimmy Thackery's drummer Mark Setso and Mookie Brill as the second guitarist (though a highly recognized bassist, Mookie can play a number of instruments all equally as well). The show took place in January 2007 and Kevin remembers how frail Carey Bell appeared to be when he took his chair on the stage. But that frailty seemed to disappear as soon as he began performing, and left the crowd of 200-300 people in amazement. Unfortunately, it would be the final performance of Carey Bell's career, as he passed away just two months later, but it forever be a memory for Kevin.
Kevin had dreams when he moved to Portland. He wanted to work his way into the scene. He had thoughts of playing at the Waterfront Blues Festival and possibly being nominated for a Cascade Blues Association Muddy Award, both in maybe five years time. As soon as he hit town, he hooked up once again with Jim Wallace and A.C. Porter, who remembered him as yet another person telling them he was going to move to Portland like so many others before who had never done so. But here he was, so now let's see how serious he is about being part of the Blues scene here. The guys took him under their wing and Kevin knowing the level of talent to be found within Portland wanted to learn from these artists. He found that most found him sincere in his approach. When people like Jim Wallace and Phil "Suburban Slim" Wagner showed that they were willing to let him sit in with them, it snowballed and a lot of others became willing to do the same thing.
Kevin had met bassist Jonathan Chase while still in Virginia on-line. Shortly after his arrival in Portland, Jonathan took him to The White Eagle for a jam featuring Tim Helm, Jim Solberg and a drummer he wanted Kevin to meet, Don Shultz. He hit it off with Don and the three decided to form a trio. The only problem was that Jonathan ended up taking a spote with the Rose City Kings instead. While sitting at Duff's one night, Don and Kevin saw this bass player who was obviously well-schooled musically running some dynamic Jazz riffs. That was Allen Markell. The three hooked up and became the new West Coast version of Kevin Selfe & The Tornadoes. They became quite a hit with the local fans almost from the get-go. And the dreams that Kevin had of the Waterfront Blues Festival within five years, became a reality that first summer. He hadn't even been living in Portland for a couple months when festival talent agent Peter Dammann invited him to take part.
Things were moving at an enormous pace that Kevin never imagined prior to moving to Portland. That fall he was even more shocked when he found himself nominated not for one, but two categories in the Muddy Awards: Best New Act and Best Guitarist. That's quite an impact on a Blues community spoiled with so many exceptional artists.
And it is those same artists that have made an impression on Kevin, too. "You just can't go wrong for the most part with the acts in this city," he states. "Everybody wants the same gigs, but unlike in other cities, they're willing to share. And they're willing to help out. That's the thing that is really special about Portland. I think that people here are mature enough to know that if you're good you're going to get the gigs here anyway. You have to be willing to change up your show. You can't play the same songs every night. You have to learn new material. That's a big part of it. You have to be hungry!"
And Kevin Selfe is definitely hungry for the work. You don't get to where Kevin has found himself today by sitting around waiting for people to call you. He has made a point to schedule as many bookings as he can, taking on any and all venues, and when he is not scheduled you'll find him hitting the jams around town or showing up to his friends' gigs, often sitting in. He is working non-stop, playing upwards of 15 to 20 scheduled gigs a month. And yet that is still not enough for him, as he is working on a new recording and has set his sights on expanding outside of the Portland area to locations all over the West Coast. Having already broken into the Seattle scene with a couple shows at Highway 99.
That Saturday night scene at Monty's is not all that out of place when you consider we're talking about Kevin Selfe & The Tornadoes. It doesn't matter what the venue may be or where it is located, when you have exceptional talent playing, the crowds will come. And with Kevin, that includes other musicians who appreciate his talents. Two Muddy Award nominations in less than a year of living in Portland. Expect that to be routine with this special artist for years to come. He has found the home he has been searching for, though it is a long way from Virginia. He no longer needs to chase tornadoes to find fun. He has his own Tornadoes. And that forecast he predicted of "partly cloudy with a chance of rain," well it appears that the skies are breaking open and the sun is coming through. And it's riding on the guitar strings of Kevin Selfe.