By Peter "Blewzzman" Lauro,  Blues Editor @ Mary4Music.com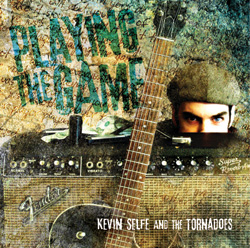 What's going on up there in the Pacific North West? Is it the cold air coming down from Canada? Is there something in the water they're drinking? Or, is there a finger of the Mississippi River that flows into that part of the country that I don't know about? Whatever it is, something up there's giving them the blues – and that's a good thing. Lately, it seems that most of the new blues talent that I'm finding exciting is coming from that area. First there was Karen Lovely, then Cee Cee James, and now Kevin Selfe and the Tornadoes. Keep it coming.
Kevin Selfe And The Tornadoes are a strong three piece ensemble consisting of Kevin Selfe on guitar, vocals and harmonica, Allen Markel on bass and backing vocals, and Don Shultz on drums and backing vocals. Their debut disc – "Playing The Game" – impressively consists of ten Selfe penned originals. Let's go hear some…
"How Much Longer?" is my kind of stuff – eight wonderful minutes of slow, scorching blues. Yeah! With Allen and Don supplying the very mellow rhythm behind him, this one's all Kevin. Emotional, soulfully sung lyrics accompanied by low down, dirty guitar riffs, with both perfectly performed. This is the blues at it's best.
Just as the guys did no holding back whatsoever with their performance of this track, there'll be no holding back with the cliches to describe it. "Walking Funny" is a rockin', jumpin', hell raisin', ass kickin', smokin', no holds barred, roof raisin', all out jam. Simple as that, nothing more needs to be said – ya just gotta listen.
"The Way She Moves" will remind you of how Muddy sang about that 19 year old. It's got that beat, similar type lyrics, and above all, that killer harp playin' you heard from many of the greats that blew for him
Every one of us, at one time in our lives, has had a "Long Greasy Night", right? "What's that" you say wondering, as I also did, what the heck a long greasy night is? Well, once you hear Kevin explain it, you'll agree you've had one. What won't need explaining is the amazing guitar work. Your ears will quickly tell you it's some of the best on the disc. The same could be said for the harp and rhythm, obviously making this another of the discs best tracks.
With a name like "Pulled Pork", you might think this is some Memphis sounding blues song which – as many of these types of songs do – sings about BBQ, hot sauce or some other types of spicy, deliciously edible products. Quite the contrary. It's actually a soft, jazzy instrumental with Kevin, Allen and Don displaying a mastery over their instruments.
Other tracks on "Playing The Game" include: "Just Like Pulling Teeth", "Blues Don't Take A Day Off", "Playing The Game", "Lay it On The Table", and "Good Dog To Kick".
You can check out Kevin Selfe And The Tornadoes at www.kevinselfe.com. While you're there, pick up a copy of – what I'm thinking just might be a "Best New Artist Debut" nominated disc at the 2011 Blues Music Awards – "Playing The Game". And please, tell Kevin the Blewzzman said "Good Job".