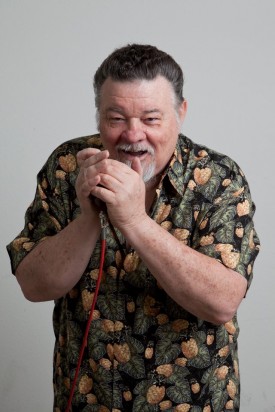 Make note of this date, Friday, May 18th, in order to plan on attending one of the coolest blues events of the spring as a huge triple-header show headlined by the legendary James Harman will take place at the Alberta Rose Theatre. Not only will James be on hand, but you'll also see exciting sets from both Nathan James & The Rhythm Scratchers and Kevin Selfe & The Tornadoes.
James Harman has been delivering his outstanding harmonica playing and superb songwriting skills for nearly forty years, earning him high accolades including Blues Music Awards nominations. Originally from Alabama, Harman has earned himself respect as one of the premier West Coast bluesmen and always brings good times whenever he takes the stage, as he recently proved at last summer's Waterfront Blues Festival. Many of the most renowned players in today's blues have spent time in Harman's bands, including the likes of Hollywood Fats, Gene Taylor and Kid Ramos and his Bamboo Porch Revue shows continue in that fine tradition with guitarist Nathan James, percussionist James Michael Tempo and bassist Troy Sandow making for a lively party on stage with more than 30 recordings to his credit to select songs from. A showman first, he never disappoints an audience.
Besides being a member of James Harman's Bamboo Porch shows, Nathan James will also be bringing his popular band The Rhythm Scratchers to play a set in this outstanding blues showcase. With drummer Marty Dodson and bassist Troy Sandow, they explore unique rhythm styles of acoustic and electric blues, with Nathan working a variety of homemade instruments such as his "washtar" that combines a washboard into a unique new version of a cigar-box styled guitar. Nathan James has been making quite a name himself the past few years after taking the solo/duo title at the International Blues Challenge in Memphis with his former partner Ben Hernandez.
Portland of course needs no introduction to Kevin Selfe & The Tornadoes who will be opening the night. One of the Northwest's most popular bands, Kevin leads with his searing guitar playing and vocals, while Allen Markel holds down bass duties and multi-nominated for the Blues Music Awards drummer Jimi Bott lays down the beat. The band has won several Muddy Awards over the years and always hands out extraordinary shows.
James Harman's Bamboo Porch Revue and friends is a CBA co-sponsored event, with tickets available through the Alberta Rose Theatre's website at http://albertarosetheatre.com/ . $18 advance, $20 day of the show. Use the codeword CBA for a $3.00 discount when ordering on-line. Showtime is 7:00 pm. 21 and over only.