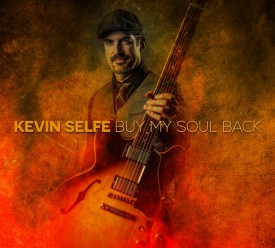 Kevin Selfe – Buy My Soul Back
Vizztone VT-KEV-01
13 songs – 59 minutes
Multi-talented Kevin Selfe and his band, the Tornadoes, have been wowing audiences from their adopted home base of Portland, Ore., for the better part of a decade, but should make waves nationally with Buy My Soul Back, a thoroughly modern album that delves into themes that regularly run through the blues.
Originally from Roanoke, Va., Selfe discovered the blues late in life, when he was a student in meteorology at North Carolina State University. His roommate, a bass player, introduced him to the works of Muddy Waters, Howlin' Wolf and Elmore James, and, by the time he graduated with honors, changed his path in life from TV weatherman to dyed-in-the-wool bluesman.
He was barely out of college when he joined the Fat Daddy Band, a regionally popular group based out of Roanoke, which was an International Blues Challenge finalist in 2002, during his six-year membership. A two-year partnership with 2008 IBC finalist Little Rodger Crowder followed before Selfe went on his own and formed the Tornadoes. In addition to touring on their own, the band worked behind a pair of Chicago greats, Eddy "The Chief" Clearwater and Cary Bell, accompanying the latter on the last gig before his untimely death.
Equally gifted as a guitarist and harmonica player as well as a songwriter, Selfe relocated to the West Coast in 2007 and has released three previous CDs under his own name, Self-Contained (2006), the nationally charting Playing The Game (2009) and Long Walk Home (2013), which peaked at No. 13 on the Billboard Blues Chart.
He's assembled an all-star lineup for this disc, his first on the Vizztone imprint. Joining him here are regular bass player Allen Markel (formerly of the Insomniacs), perennial Blues Music Award nominated drummer Jimi Bott, Mannish Boys' harp player and bassist Mitch Kashmar and Willie J. Campbell, Ana Popovic and Tommy Castro organist James Pace and Fabulous Thunderbirds pianist Gene Taylor as well as guest vocals from Sugaray Rayford and backing vocals from 2015 BMA winner Lisa Mann. Also contributing are Kevin's regular timekeeper, Don Shultz and a horn section consisting of Joe McCarthy (trumpet), Chris Mercer (tenor sax), Brad Ulrich and Peter Moss (baritone sax) and pianist Steve Kerin.
Virtually all bluesmen take a vow of poverty when they pick up an instrument, and the theme runs strongly through this collection of 12 originals and one cover. A New Orleans-style horn line kicks off "Picking Empty Pockets" to start the disc. It's an autobiographical tune about smiling on the outside while living in the back of a beat-up van. Moss' stellar baritone work sets the tone with Selfe delivering a searing six-string solo to conclude. Kashmar's harp introduces "Fixed It Til It's Broke" and remains stellar throughout as Kevin puts his picking skills on display. The song's a stern warning to someone who wants to affect a change in the singer's life when no alterations are needed.
The title cut, "Buy My Soul Back," is a straight-ahead modern blues about having regrets years after selling one's soul to the devil for musical success. It swings from the jump with another rock-solid performance from the horn section and tasty extended six-string solo. "Digging My Own Grave" sings about doing backbreaking work in the field to put food on the table. It's delivered with a feel and simple arrangement that would fit in any Hill Country juke.
The pace changes dramatically for the contemporary "All Partied Out," a slow blues regret about waiting up in the morning alone, hurting and wondering how the singer had wound up in this condition, but knowing it was from pushing himself in the wrong direction for so long. "Keep Pushing Or Die Trying" provides a much brighter outlook, delivered with a slight country feel and driving piano line from Taylor, as does "Bluesman Without The Blues," featuring Rayford on vocals. It's a funky number about dressing, eating and living too well to be making the music Selfe loves.
An interesting, countrified cover of Bruce Springsteen's "I'm On Fire" based on Johnny Cash's "Ring Of Fire" follows before five more originals bring the disc to a close. "Don't Tear Me Down" is subdued jump blues plea to communicate better with his woman while "Double Dipping" is a New Orleans-flavored funk about a loose woman. "Viriginia Farm" sings praise for the simple life Selfe left behind while the instrumental "Pig Pickin'" comes across with a solid Chicago flavor. The poverty theme returns full circle to conclude the set with "Staring At The Bottom," another solid blues with imagery of being so far down, the singer's going to have to dig to the other side of the world to get out of the hole he's in.
Modern blues for modern times. Available through Amazon and iTunes, this one's definitely worth a listen…or two…or three. A powerful statement from a musician who's clearly on the rise.